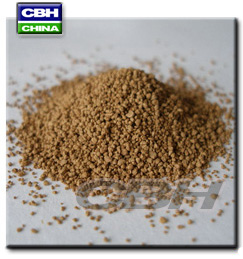 Product Name: L-Lysine Sulphate (Feed Grade)
Category: Amino Acid
CAS. No.: 60343-69-3
L-Lysine, one of the essional amino acid, as the first limiting amino acid for pigs and the second limiting amino acid for poultry, is playing an important role in animal's health. It can improve the growing performance and better the feed concerntion rate.

L-Lysine Sulphate is the fermentation product with sulphate acid added during the manufacturing process. It can replace the tradional L-Lysine HCl as a livestock feed additives with the same feed effects, such as feed efficiency, true digestibility coefficient, bioavailability and RBV (relative biological value). It produce the identical performance responses with L-Lysine HCl regardless of livestock species and growing stage.
We CBH are in the position to offer three kinds of L-Lysine Sulphate (Feed Grade)

L-Lysine Sulphate 65% (Feed Grade)
L-Lysine Sulphate 70% (Feed Grade)
L-Lysine Sulphate 80% (Feed Grade)
Detailed technical data sheet and information available upon request. Please feel free to contact us.